A number of people are involved in countless workflows when preparing interim and annual reports. Investor relations and sustainability managers, financial experts, editors, layouters, translators, auditors, proofreaders, web and print specialists - they all play their part in getting a high-quality report published on time. The pressure to perform is enormous. So why not make work as easy as possible wherever possible?
In order to achieve this, STADA Arzneimittel AG, together with its reporting agency wagneralliance Kommunikation, has expanded its team and brought in strong support for the realization in the form of mms solutions and Komminform. mms solutions provides the software solution ns.publish for the automation of various work steps and Komminform provides the initial setup and programming of all tables as well as technical support.
Based on the number of users, depending on the focus on online- or print-first and taking into account existing partners, such as agencies or translation agencies, mms solutions creates a licensing model. Komminform, in very close cooperation with STADA and wagneralliance, is responsible for setting up the publication in ns.publish.
But how can so many players reach their goal together and successfully? And why did STADA decide to replace the existing system and introduce ns.publish and the associated automation? Increased efficiency, speed, more content with fewer sources of error were the requirements STADA in addition to a convincing concept and excellent design.
Thanks to the single-source-of-truth method, all parties involved access one source file, which effectively eliminates version problems and bundles the strengths of all players. After the initial setup, STADA can independently edit articles directly in the layout and check them immediately in the layout. As soon as layout adjustments become necessary, the STADA team speaks with wagneralliance, which also works directly in the system and with whom STADA has been working in a trusting relationship for about 20 years in the creation and implementation of its interim and annual reports.
A new feature is now the ability to automatically transfer updates within all tables in all languages into the layout by uploading an Excel file. This eliminates time-consuming and, above all, error-prone manual work and usually several correction loops. If there are any questions, STADA contacts Komminform and is guided to the goal as quickly as possible. Working in the same system, accessing a single data source, and being able to create reports in XBRL and HTML offers further development opportunities for the future.
What are the requirements again?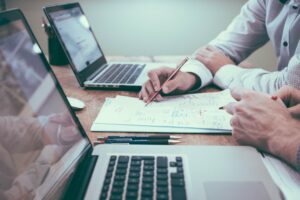 Efficiency increase √
Speed √
Automation √
Fewer sources of error √
Higher security √
Less stress √
Added to this is very good teamwork, with everyone pulling in the same direction. So the next report can come.