For the first time, the German real estate group Vonovia is consistently producing its annual report online and is using the ns.publish publishing system with numerous modules, including ESEF/XBRL and translation functions, throughout.
2021 was the most successful fiscal year in the company's history to date. Vonovia reports on this impressively in the new online report and interactively presents the positive development of the key financial and non-financial indicators. As of December 31, 2021, Vonovia's portfolio included more than 565,000 rental apartments, the distribution of which is clearly presented on a dynamic map.
Vonovia's success forms the important foundation for being able to assume social and ecological responsibility. The sustainability performance index rose to 109% at the end of 2021. In particular, the reduction in CO2 intensity, the development of the average primary energy requirement for new construction as well as a positive development in the customer satisfaction index contributed to this.
On a dashboard, the online report offers readers the essence of the annual reporting in a compact and reader-friendly form. The information offered is rounded off by a factsheet with the key facts and figures about the company, which is provided in digital form or as a PDF file.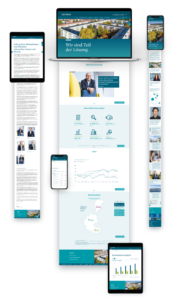 To the Vonovia Online Report 2021

Publishingsystem: ns.publish mmssolutions, Frankfurt und Zürich
Reportingagentur: Berichtsmanufaktur, Hamburg