The dynamics of capital market regulation have continued to increase over the last 12 months. What has already been a reality in the EU since 2020 with the introduction of mandatory disclosure in accordance with machine readability/XBRL will now also become a regulatory obligation in Switzerland on January 1, 2024 with the implementation of the counter-proposal to the so-called corporate responsibility initiative.
As of the 2023 reporting year, companies are required by law to include non-financial issues (ESG) in their reporting. We are increasingly confronted with questions about ESG reporting. In order to provide orientation, we have summarized the most pressing topics in nine fields of action and show good practice based on case studies.
Learn how to disclose and communicate non-financial issues using the ESG Reporting Triangle.
The key questions in the ESG Reporting Triangle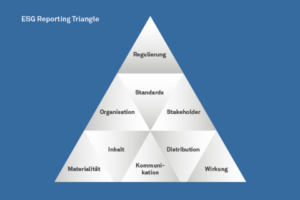 Regulation
What are the new regulations and laws to comply with?
Standards
Which standards and frameworks are particularly relevant?
Organization
How do ESG initiatives gain the necessary clout?
Stakeholders
Who are our stakeholders and what do they expect from us? (internal/external)
Materiality
What are the relevant materialities? (inside-out and outside-in perspective)
Content
How do we want to communicate our content and progress? (functional and emotional)
Communication
How do we create synergies in our reporting? (ESG)
Distribution
How do we expand reach and address more stakeholders?
Impact
How can we make reporting measurable?
The ESG Reporting Triangle by NeidhartSchön can be explored in 3D at the 14th Annual Reports Symposium.
Simplify your reporting!
Our ESG Reporting Triangle serves as a jumpstart to simplifying your reporting.
When and where?
At our offices at Dorfstrasse 29 in Zurich or via webinar.