Companies are facing a major sustainability-driven transformation. More than ever, they have a responsibility to critically examine, develop and report on their actions in terms of compatibility with the health of our planet, our environment and the people involved. ESG reporting is becoming regulated and thus concrete. There is an urgent need for action.
The initial situation: While the UN's Sustainable Development Goals (SDG) still formulate rather general goals and fields of action for the development of a sustainable economy, legislators are now pursuing clear goals - such as the implementation of the European Green Deal in the EU or the counter-proposal to the Corporate Responsibility Initiative in Switzerland. Companies are required to provide meaningful, coherent and comparable sustainability data, and thus to account for their actions not only in terms of finances, but also in terms of sustainability, and to provide their stakeholders - especially investors - with relevant and comparable information. We are at the beginning of a fundamental transformation of reporting. What needs to be done?
The situation is still confusing. Regulators are developing draft legislation and taxonomies. Standard setters are working on binding standards. Companies are referring to various standards and frameworks, such as the established GRI standard. Assessing and comparing information across all non-financials is currently still difficult despite the existence of frameworks, so it is not surprising that sustainability reports do not yet enjoy a high level of trust.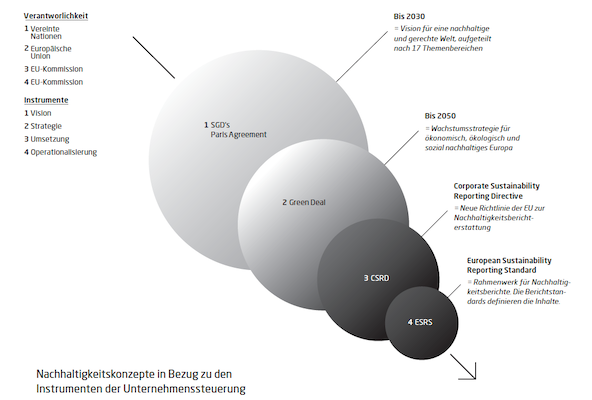 The formation of the International Sustainability Standards Board (ISSB) at COP26, the 2021 UN Climate Change Conference, is intended to create a new starting point at the global level. As the driver of the ISSB, the IFRS Foundation intends to develop a global standard, the IFRS Sustainability Disclosure Standards. These focus primarily on investors. The EU is also working on developing a European sustainability standard that is aimed not only at investors but also at other stakeholders. This means that several players around the world are working on the same topic at the same time, sometimes in competition with each other, and yet are pursuing the same goal: by combining ESG reporting standards, companies should no longer have to work their way through a complicated web of different standards with different measurement methods, guidelines, protocols and assessments, but should apply the same standard (comparable to the IFRS standard in accounting). This simplifies the reporting process. At the same time, however, greater responsibility lies with the companies, which must ensure that the disclosed ESG information is correct and comprehensible. The issue of sustainability is thus moving to the core processes of companies and is seen as part of integrated corporate management, which includes social and ecological corporate goals in addition to traditional economic ones. This global reorientation is moving toward greater standardization and the application of the control and due diligence common in the financial world to the differentiated data field of sustainability.
"Capital markets have an essential role to play in achieving the net zero goal. But this will only succeed if sustainability data are collected with the same care, quality assurance and global comparability as financial data."
Erkki Liikanen, Chairman of the IFRS Foundation
The regulatory requirements that have existed to date, such as the Non-Financial Reporting Directive (NFRD) currently in force in Europe, have not created the transparency needed to achieve sustainability goals such as the net zero by 2050 target set by the EU or the SDGs by 2030. The data quality of non financials often leaves much to be desired, and investors in particular do not receive the data they need to make their investment decisions. This starting point, combined with the climate crisis, is prompting standard-setters and regulators to set the pace on ESG, and they mean business. The Task Force on Climate-Related Financial Disclosures (TCFD), for example, which specializes in climate issues, is issuing recommendations that will also become binding in Switzerland. The EU goes even further, where companies will soon have to meet the requirements of the "European Sustainability Reporting Standards (ESRS)", which implement the Corporate Sustainability Reporting Directive (CSRD) - as a mandatory basis for reporting for companies that meet at least two of the following three criteria: more than 250 employees, more than EUR 40 million in sales, total assets greater than EUR 20 million. Another reporting requirement that has already been made mandatory in the EU area is the EU taxonomy, a uniform classification system for sustainable economic activities. It is intended to create a definition of "sustainable economic activity" in order to redirect investments accordingly into sustainable activities of companies. The taxonomy is being developed in a staggered manner; with a priority on environmental and climate issues. Initial disclosures (capex, opex, revenue) must already be reported as part of an addendum to the NFRD.
"Not only for reporting, but also for the underlying management systems, the bar is raised significantly."
Irene Perrin, Senior Consultant, Center for Corporate Reporting
So far so good, but uncertainty currently reigns when it comes to implementation details. Companies are clear that ESG will be included in their annual reports and that it is their responsibility to build stakeholder confidence. However, it is unclear who needs to be involved in the process, what data needs to be collected, how data integrity can be ensured, and what preparations need to be made to include both structured and unstructured data sources. In many companies, there are already established processes (e.g., on GRI), but there is a lot of uncertainty about the extent to which these are in line with the latest standards and requirements and how to ensure a transition to a new system. ESG has thus become a top management issue.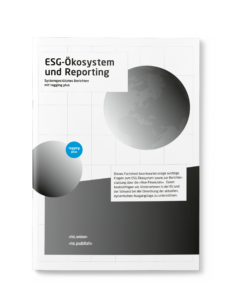 Learn more about the ESG ecosystem and system-based ESG reporting? Order our comprehensive factsheet (in German) now free of charge.